BEAST Blog Cyclist Holiday Wish List
Still not sure what to get your cycling guy or gal for the holidays? BEAST Blog understands how difficult it can be trying to figure what gift to give your two-wheel loving loved one, so we thought we'd help you out with this handy little cheat sheet to guide you to shopping success.
1. GoPro Hero3













If your cycling friend likes to take photos and videos of their rides than this is the absolute must have gift for 2012. GoPro is the leader in producing small, durable sport and action cameras. That awesome shot of the midair bike stunt with 5,000 likes on instagram...was likely shot on a GoPro camera. The Hero3 comes at three different price points ranging from USD $200 for the White Edition to $400 for their top of the line Black Edition. All of the Hero3 cameras come with a durable waterproof casing, basic mounting accessories and are wifi enabled. With this gift your cyclist is sure to be a hit on youtube. (www.gopro.com)
2. I
ndoor Trainer
Reduced daylight hours and cold weather mean many cyclist just hang the bike up for the season but if your cycling buddy is determined to keep training through the winter, then an indoor trainer is a life saver and will keep your cyclist happy and healthy throughout these chilly months. Indoor trainers allows a cyclist to ride their usual bike by setting the bike into the trainer stand which generates resistance using fluid or magnets. The prices vary quite dramatically ranging from $100 for lower quality models to $500+ for high end brands, which tend to be quieter and more realistic feeling than the cheaper brands. The Kinetic by Kurt Road Machine Indoor Cycle Trainer has great reviews and is reasonably priced at USD $379. (Kinetic by Kurt Road Machine)
3. Bike Computer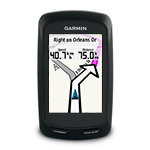 If your cyclist is just getting started then they absolutely must have this cycling essential. Basic bike computers give cyclist data on their ride such as speed, distance and time traveled. Higher end computers include added features such as heart rate monitors, total climb and GPS. Prices range from $20 for the most basic computers to over $500 for models with
GPS and
full color touch screen displays. (Garmin Edge 800)
4. E
vent Registration
Depending on where you live cycling may or may not have a "season" and while many hang up the bike for the chilly months there are plenty of fun cycling events and races throughout the year. However, if you are cycling throughout the year those race fees can add up, which is why event registration is a great gift, and you don't have to worry about it not fitting. Race fees are usually around $75 plus another $60 for an official event jersey. Choose a race in a different city and you can make a fun weekend of it! Use
Trifind.com
to find cycling events all over the US.
5.
Bike Light
With winter comes reduced daylight hours and unfortunely for those who like to pedal after work, that means it usually gets dark before you get home. Keep your cyclist happy and safe by buying them a rechargeable headlight system. Make sure you choose a quality light and not those little blinkity things. The blinkity things are safety lights and they are great for letting cars and other riders know you are there, but they don't provide sufficient light for the rider to see the road. If riding in the city where there are streets lights then one can get away with a light putting out 150 lumens; 500+ lumens is needed for riding in dark areas. Check out the NightRider Lumina 650 sold at REI. This ultrabright LED light offers three output settings, flashing mode and an internal lithium ion battery. Prices on these types of lights range from $100 to $500+.
Reflectors and safety lights make great stocking stuffers to go along with this gift. Its all about safety!